Last week we took our final field trip of the year - to
Domino's Farm
! The kids had a blast! Here are some pictures from our trip:
We went on a hay ride!
Froggy Boots did not have school that day, so she came along for the trip too!
We saw cows...
and more cows...
and horses...
ans goats... and more cows!
We learned about many different farm animals, including rabbits...
chickens...
alpaca... and many more!
The kids had lots of questions!
And, they payed close attention to the lesson!
We even got to see a chicken fly! You can barely see the blur up near the rafters of the barn.
We spent some time looking at all or the other animals in the barn and outside the barn!
And fed the goats lots and lots of carrots!
And the bunnies too!
I really like the alpacas - they had sort of a "poodle" hair cut which was quite funny!
There were pigs too!
The kids really like the bunnies!
And the bunnies really like the kids!
There was also an albino peacock!
Check out those feathers!
We had a great time at the farm! And, it was a great end of the year field trip!
If you have been reading my blog for a while, you probably noticed something different about my photos this time - the addition of a water mark! I was lucky enough to be one of 20 winners in the
Living Montessori Now Pearl Mountain Image Converter giveaway!
So, I decided to give it a try! And, it worked great! I uploaded all the photos into the software, created the water mark, and the software put it on all of the photos all at once! I have not tried out any of the other features of the software yet, but I will soon!
I also wanted to give a heads up to all of my regular readers that I am making plans to create a new blog with a new name that is more descriptive of what I write about. In other words, the new blog will have the word Montessori in it somewhere. I may start a secondary blog to write about my family life, but that is not on the top of my list right now. For now I will just be focusing on getting my new Montessori based blog up and running. I am hoping that by making this change I will be able to draw more of an audience from the Montessori community as well as making my blog more attractive to advertisers with products related to Montessori and education. I'll give more details as I come closer to making the switch!
I am linking up with Montessori Monday via Living Montessori Now!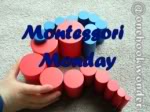 And Teach Me Tuesday via Preschool Powol Packets!